British Columbia history, gold rushes, staggering historical sites, and a long long railway
British Columbia history is relatively short; being on the furthest west of Canada, it was one of the last places to have European settlements. So its history is not long like New Brunswick, and no revolutions like in Manitoba. Still, it compensates its relatively short history with jaw-dropping historical sites, which are definitely worth visiting.
In this article, we take a look at British Columbia history and learn about its significant stages, and of course, we will introduce some of the beautiful historical sites.
Looking into British Columbia history, what has happened there in the past?
Human settlements in British Columbia history go back to thousands of years ago. The indigenous people occupied the area for so long. The first European to see British Columbia was probably Vitus Bering (Yes, Bering Strait is named after him!!), who saw British Columbia's shores when passing the area.
The turning point in British Columbia history was in the 2nd half of the 19th century when gold was found along Fraser River and in Cariboo Region, and gold rushes began. Many small settlements were built, and the completion of the Canada Pacific Railway made more opportunities in the western end of Canada.
In the table below, you can see the notable events in British Columbia history and the year of the occurrence:
Important events and dates in British Columbia history

| | |
| --- | --- |
| Year | Event |
| Before the 18th century | Indigenous people occupied the land. |
| 1741 | Vitus Bering, a Danish explorer, reached the shore of British Columbia while trying to reach Russia. |
| 1775 | 1778, James Cook, British Royal Navy Captain, and cartographer, landed on Vancouver Island. |
| 1789 | Esteban José Martínez, Spanish commander, founded a settlement in Nootka Island. |
| 1792-94 | Captain George Vancouver, explored the Pacific Northwest coast; thus, several locations are named after him. |
| 1794 | Fort St. John, the first European permanent settlement in British Columbia, was established. |
| 1795 | After the controversy with Britain, Spain ceded the area to the British. |
| 1846 | Oregon Treaty, 49th parallel is set as the boundary between the United States and British colonies, ending the conflicts. |
| 1849 | The Vancouver Island colony was established under the Charter by the Crown, with the capital of Victoria. |
| 1858 | Gold was found along Fraser River, and miners rushed to Victoria. |
| 1858 | The British Columbia colony was formed, with New Westminster serving as its capital. |
| 1862 | Gold was discovered in Cariboo Region, another gold rush. |
| 1866 | The colonies of Vancouver Island and British Columbia were united, with Victoria as the capital. |
| 1871 | British Columbia joined Confederation as a province. |
| 1885 | Completion of Canada Pacific Railway. |
| 1903 | The Alaska Boundary dispute between Canada and the United States was arbitrated. |
| 1942 | 22,000 Japanese were confined after the Pearl Harbor attack for the rest of WWII; the government apologized for this act in 1988. |
Remainders of British Columbia history
In the following, we will talk about some of the historical sites of British Columbia, some of which are a feast for the eyes.
Fort Langley
A significant monument of British Columbia history, Fort Langley, was initially built in 1827, but it was relocated in 1839 to its present-day location. It was established by Hudson's Bay Company as a post to trade fur, and it was used until 1886. In the 1920s, the storehouse of the fort was the only surviving building, but when the government of Canada obtained the site and designated it as a national historic site in 1923, rebuilding of the fort started.
Barkerville 
In 1861, in the midst of the Cariboo gold rush, the town of Barkerville was established. At its peak, Barkerville had a population of 5000, multiple stores, a church, a theatre, and even a school, which engraved its mark in the British Columbia history. As the gold rush of Cariboo went after its prime, so did the town of Barkerville, to a point in which only a few residents stayed there. Although through "Dirty Thirties", the town became prosperous again due to the high price of gold, it never reached its peak again.
Barkerville was designated as a national historic site in 1924, and in the 1950s, restoration began, making Barkerville just as it was during its prime.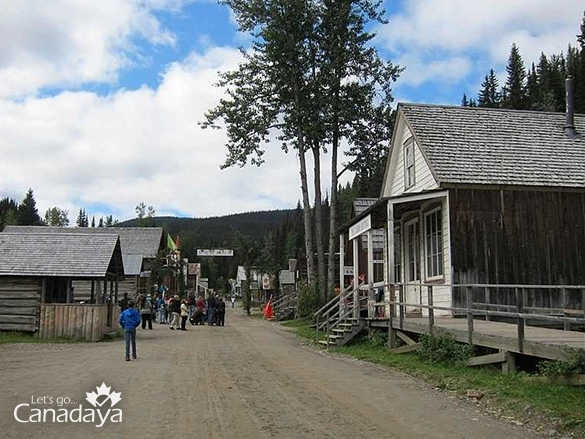 Gastown
Built in 1867, turning a new leaf in British Columbia history, Gastown was Vancouver's first neighborhood and the core of the city. In 1886 the name was changed to City of Vancouver, and in the same year, a great fire claimed almost every building in it, but it was rebuilt.
In 2009 Gastown was designated as a national historic site.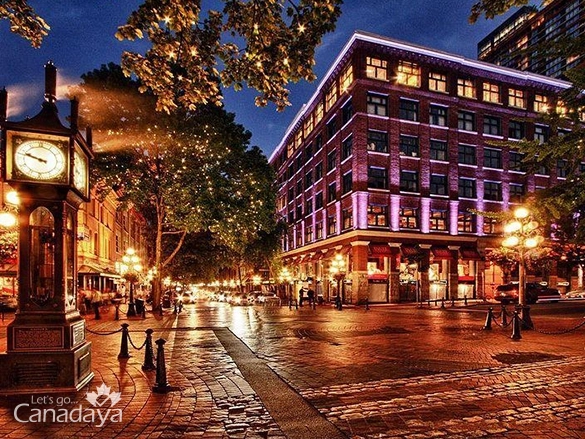 Ninstints
One of the oldest historical sites, and one of the oldest pages of British Columbia history book, Ninstints or SG̱ang Gwaay Llanagaay (Red Cod Island) is a UNESCO world heritage site and a national historic site in Anthony Island, British Columbia.
The village's history goes back at least 10,000 years, and the indigenous people of Haida lived there until 1878. Trading with Europeans, diseases like smallpox, etc., caused them to leave their village to live in other areas.
Hatley Park
Hatley Park is the site of Hatley Castle, located in Greater Victoria. In 1906 the governor of British Columbia purchased the land, and the famous architect Samuel Maclure designed the castle. Its building process was completed in 1908. Throughout British Columbia history, the castle has been used as the governor's house, a naval college, military college, and a public university, and also, it's been used in some famous movies.
At the peak of WWII, the castle was considered a possible shelter for King George VI, Queen Elizabeth, and their children in case the worst happened to Britain.
In 1995, Hatley Park was designated as a national historic site.
Fort Rodd Hill and Fisgard Lighthouse
Another souvenir of British Columbia history, Fort Rodd Hill and Fisgard Lighthouse are two national historic sites in the vicinity of each other, respectively constructed in 1895-97 and 1859-60 and were designated as national historic sites in 1956 and 1958.
Fisgard Lighthouse was built to guide the ships coming to Victoria Harbour; to some degree, it was a response to the gold rushes happening in that era. In 1858, about 25,000 gold miners reached there en route to Fraser gold canyon.
Fort Rodd Hill is an artillery fort erected to defend against possible attacks. During WWII, the guns installed in the fort were deemed useless; thus, they installed new guns.
Our last words on British Columbia history
British Columbia history is about hard-working people, from the beginning the enthusiastic indigenous people to the determined people who came there through gold rushes. Even today, the people of British Columbia are known to be hard workers. 
Thus, here we finish our article on British Columbia history, hoping you enjoyed reading it.
If you are interested in other provinces' history, check out other articles about them, and leave your feedback. We would be glad to know your opinion, anytime.